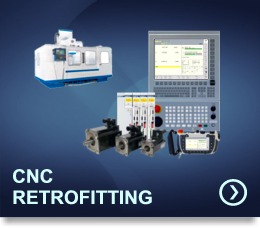 Why Retrofit?
Do you have old machines that are mechanically sound but have old and frayed wires and outdated control systems that you canít find spare parts for? If so, then a retrofit might be the ideal solution to your problems. MasterCore gets rid of old wiring and outdated parts and replaces them with the latest state-of-the-art CNC, digital drives & motors... more

The MasterCore Advantage
MasterCore has extensive experience with electrical & mechanical engineering, PLC & CNC programming, HMI development, and servo optimization & tuning. These are the skills needed to perform successful retrofits 100% of the time. And in most cases, we can integrate our solution right at your facility preventing the need for removing the... more

Why Automate?
Robots are quickly becoming common place in any manufacturing facility and it is more economical than ever to have them integrated into your process. In most cases the cost of adding robots and automation will pay for itself within a year or so... more

The MasterCore Advantage
MasterCore will help you determine where automation can be applied and provide a turnkey solution that's affordable and critical to compete in today's economy. From complete automation systems to specific robotic application needs and tooling, our solutions are custom engineered, built and fully integrated into your existing application and process. Besides our knowledge and experience in industrial automation systems... more
Why Monitor Production?
Strategic philosophies or practices such as Kaizen, Lean Manufacturing, Six Sigma, Total Quality Management and Continuous Improvement are used by many organizations to help improve processes, drive productivity and maintain a competitive edge in todayís ever-increasing global economy. Despite varying concepts, each practice uses Key... more
The MasterCore Advantage
MasterCore provides turnkey production monitoring solutions for a wide variety of applications. Our extensive experience with CNC retrofitting, CNC & PLC programming, gauging & vision applications, and robotics & automation, provides us with the necessary knowledge to obtain the desired data from these systems. In addition, our... more